polypropylene + pvc
moldings
SEAM TREATMENTS FOR GLASBORD + SEQUENTIA  AND WIDE OPTIONS FOR KEMPLY PANELS
Standard moldings are contractor grade moldings that are perfect for use with FRP panels. Crane Composites division bars feature patterned expansion control guides to assist with proper FRP installation.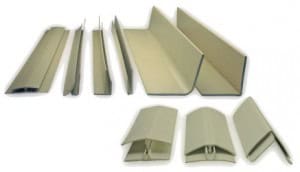 Available in a standard one-piece polypropylene molding for Glasbord and Sequentia in 10′ lengths in all standard colors.
For Kemply laminated panels, available in a wide one-piece polypropylene molding or two-piece surface mount molding in 10′ length.
Online Resources
Technical Data Sheet         Installation Guide